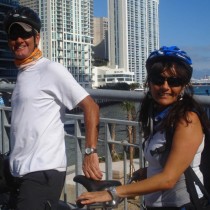 Giuliana Mulas Technical Director & big boss
Moved to Tuscany 20 years ago after a "first life" in Milan working in TV industry, in graphic area but with full passion for any sport! So after the first child she was enthusiastic to move in the beautiful countryside and take care of cycling tours full time, mostly all the logistic but also bike guide and scouting new tours.
Marco Tornaghi Founder President & Tour guide
Was a sound technician in Milan in a former life. His FULL passion for cycling led him to the quiet roads and rolling hills of Tuscany where he lives and has been leading bike tours since 1994. Marco knows the region extremely well and loves to share his knowledge of Tuscany's secret corners and off-the-beaten-path places with his guests.
Office: +39 0578 749983Mobile: +39 345 0371289Fax: +39 0578 749983